Stone in Little Ferry, NJ 07643
The Art of Stonework in Little Ferry New Jersey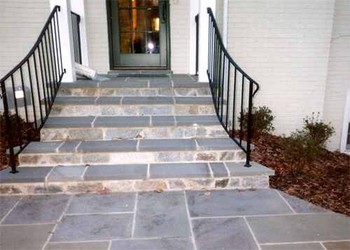 The very word 'mason' relates to stone – to 'mason' means to build with stone or to shape or dress stone. As a full-services Little Ferry masonry company, BMF Masonry sees stonework as a fundamental service. We take pride in both the art and the science of working with stone, and have been doing so since 1999 in Little Ferry, NJ.
In Ancient Times, stone was a primary material for building and construction, as we know from lost civilizations. At BMF Masonry we are Little Ferry's master masons and we take pride in continuing this historical tradition: the Art of Stonework.
Some of the most eye-catching architecture in Little Ferry is actually made of stone. This time-honored method requires the assembly of stones – natural and precisely cut to order – not unlike a jigsaw puzzle. Though stonework is costlier than brickwork or concrete, many Little Ferry residents consider the visually delightful and aesthetic result worth the price. Call us at (201) 228-1858 and get a free quote for our Little Ferry stonework services – you have no obligation and nothing to lose.
BMF Masonry does all kinds of stonework in Little Ferry NJ – we will build you a stone summer cottage or a simple stone retaining wall. We will use mortar or resin to bind the stones or employ a 'dry stone' technique, whichever is suitable for your Little Ferry stonework and whichever you prefer.
Stonework is now considered a component of architecture. By assembling a Little Ferry structure using stones of complementary hues and tints, of different sizes and shapes, and setting them in recessed and protruding arrangements, an effect of timeless beauty is created – and courtesy of BMF Masonry, you can get it at a fair price for your property in Little Ferry. Simply call us at (201) 228-1858 for your free quote.
---
Call for FREE Stone Quote
---